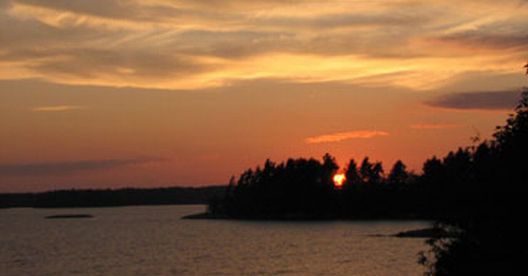 The Lake Wah-Wash-Kesh Conservation Association is a not-for-profit association of cottagers and residents on or near Lake Wahwashkesh, Ontario, Canada. The Lake Wah-Wash-Kesh Conservation Association came into being officially on August 12, 1954. Here is a quote from the constitution adopted that day:
to promote the property interests of the members and to cooperate with the Provincial Government of Ontario in the conservation of natural resources of the area so that the Lake Wahwashkesh region will be a source of continuing interest to property owners and visitors for vacation purposes.
The Association's inception was the result of several years of informal discussions involving a few dedicated cottagers who had concern for the lake, and therefore, the interest of all at heart. Of this group, we remember the late Dr. Frank Griffin as the catalyst that sparked the organizing effort and became the Association's first President.
On March 4, 1994, the Lake Wah-Wash-Kesh Conservation Association was incorporated under the laws of Ontario, so that the Association could formally represent the interests of our Lake during official hearings of the Ontario Municipal Board

. These hearings dealt with the details of the proposed cottage properties for the Longhorn development on the Big Lake.

top ↑
The Letters Patent filed during incorporation in 1994, echoed the original words of the founders:
To promote the conservation of the natural resources of Lake Wahwashkesh in the Township of McKenzie, in the District of Parry Sound and to protect and improve the natural environment of the Lake for the benefit of all users
To protect and promote the property interests of landowners on Lake Wahwashkesh or located nearby
Download the full version of Letters Patent

(170 KB) or browse the table of contents of our official constitution.

top ↑
A review of some of the accomplishments of the Association through its life indicates that we are achieving our vision. Here are some of the Association's accomplishments to date:
maintained good relations with the Ontario Ministry of Natural Resources (MNR) and with Federal and local governments
contributed in early years to the cost of watchmen for Walleye spawning periods at Lovesick Rapids, as directed by the Ministry
conducted lake water quality tests and reported the results to members
in consultation with the Federal Government, carried out an extensive lake depth survey coupled with lake place names official identification, which resulted in the production of a top quality informative map of Lake Wahwashkesh
participated actively with the MNR in an intensive Creel (fish) Census for the lake
together with the immediate property owners promoted the establishment of a public wharf in Bennett's Bay by the Federal Government. Today, the Association (on behalf of the MNR) manages both this dock and the public dock in the Indian Narrows for the benefit of all users
arranged for speakers and distribution of literature on subjects relevant to property owners at our Annual General Meeting, which is traditionally held in Bennett's Barn on the Saturday of the Civic Holiday weekend, in early August
published Bulletins and Newsletters
organized social activities for cottagers (e.g., wiener and corn roasts, dances, angling contests, etc.)
prepared and published the Lake Wahwashkesh Cottage Directory as well as the historical story, Lake Wah Wash Kesh, The Early Years
over a period of five years, developed a plan, obtained funding, and had the dam rebuilt on Lake Wahwashkesh
participated and contributed in the establishment of the Municipality of Whitestone on January 1, 2000
Ray Corneil and Ed Bennett, who are members of the Association, are part of the Public Advisory Committee to provide advice and comments to MNR during the development of the Magnetawan River Water Management Plan
as part of the Municipality of Whitestone's official Planning process, Ray Corneil represented the Association's interests in the development of Whitestone's Official Plan
in August 2003, 40 volunteers got together to clean up the shoreline around the lake, and they collected almost 500 cubic meters of garbage; the project was made possible by funding from the Shell Environmental Fund and Environment Canada's EcoAction Community funding program
conducted a Membership Survey in February 2004, and received replies from 137 people or 42% of the 326 memberships sold in 2003; recommendations include placing more emphasis on fish enhancement activities, improving the Web site, reducing emphasis on land use planning because the Municipality is now organized, and ensuring fair representation from all areas of the lake