Jump to:
IMPORTANT NOTICES
Peter Disley    September 23, 1951 – October 10, 2023
The Lake WahWashKesh Conservation Association Board of Directors extend our deepest sympathy to Peter's family and friends.
It was evident that Peter had a great love of Lake WahWashKesh and cherished his time at the Lake with family and friends.   His positive attitude and sense of humour made him a pleasure to know and work with as we together endeavoured to preserve the beauty and natural environment of the Lake.  We will miss Peter, as will the many people across the Lake that had the pleasure of knowing him.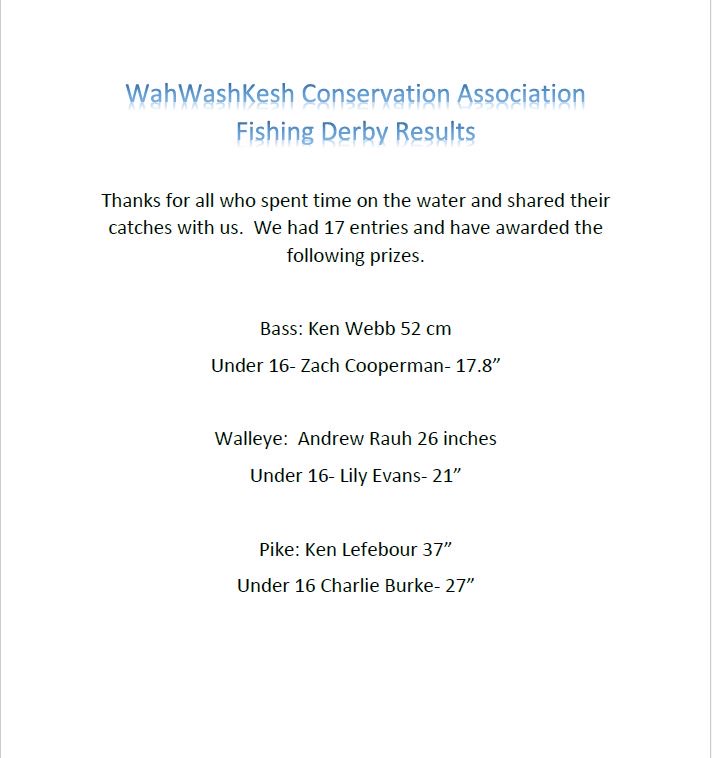 Notice:  June 6, 2023 Council decision on Boat Launch and Lake Access Points
Whitestone Council passed a resolution proposed by Councillor Nash at its June 6th meeting regarding additional conditions on Boat Launch and Lake Access Points on municipally owned lands.  This decision will impact Lake WahWashKesh boat launches and lake access points at Bennett's Landing and the Narrows.  The decision is as follows:
No private docks be allowed on municipal controlled land without a permit
No Rail Systems/Shore Dockers for watercraft be allowed on municipal controlled lands without a permit
Winches/winch systems can be used to assist, however no winches/winch systems can be stored on municipal controlled lands
No trailers be allowed to be parked or stored at boat launch/lake access parking areas, unless the trailer is attached to a vehicle. If attached to a vehicle, the trailer can remain for no more than fourteen (14) days per year.
No private storage containers be allowed on municipal controlled lands without a permit.
Municipal staff are directed to remove any private docks, private rail/shore docker systems, private storage containers that are on municipal controlled lands within boat launch and lake access areas after August 1, 2023 should the owners not remove prior to this date.
Municipal staff are to prepare a by-law for the conditions contained in the resolution and bring it back to Council.
Please note: Questions regarding the conditions to be contained in an upcoming by-law should be directed to the Municipality of Whitestone.
As well, Parking and Lake Access is on the agenda for the upcoming Lake WahWashKesh Conservation Association Annual General Meeting which will be held August 5, 2023 at 9:30 a.m. at Bennett's Barn.
Notice: Shoreline Enhancement Presentation
Whitestone Conservation Association Annual General Meeting
Saturday July 8th, 2023
10 a.m., Dunchurch Community Centre, Whitestone
Healthy natural shorelines are vital to maintaining the overall health of our lakes. Natural shorelines help filter pollutants, protect against erosion, and provide habitat for fish and wildlife.
Julia Sutton of Sweet Fern Consulting will present information about Natural Shorelines and their importance to the health of our lakes. Ideas will be presented on how the property owner can enhance and naturalize your shoreline.
Julia Sutton has worked with plants and landscaping for over twenty years, and specifically with native plants after obtaining her post graduate certificate in Ecosystem Restoration in 2006. She is the owner of Sweet Fern Consulting and has given many presentations about native plants and has created multiple restoration plans for landowners. She lives in Parry Sound District and runs an organic farm.
           Everyone  is  invited and encouraged to attend.
WWKCA Memberships
All residents and, are encouraged to purchase their Lake Wahwashkesh Conservation Association membership.
The Association has yearly costs that benefit us all, such as Water Quality Testing, participation in the Lake Partner Program, website, newsletter and bursaries.  Your membership in the Conservation Association creates a stronger voice for the Lake on issues that are important to residents.  As well your membership helps to promote the conservation of the natural resources of Lake Wahwashkesh, protect and improve the natural environment of the Lake for the benefit of all users, and protect and promote the property interests of landowners.
We are one Lake Wah-Wash-Kesh Community!
RE:  Sto-Keene Development Application
Dear WWKCA members
As you may have heard, both the Whitestone Council, and the Parry Sound Area Planning Board (PSAPB), have voted to approve the proposed development in the North Lake – the "STO-Keene" development. The following is a summary of the Parry Sound Area Planning Board decision on this matter:
That application S01/2022(W) be approved for the creation of 8 water access lots on Lake WahWashKesh, with conditions.
The relevant conditions related to the approval are as follows:
1. That the lots be assigned to a mainland parking location
2. That the subdivision agreement between the owner and the Municipality of Whitestone includes a requirement that septic system installations include the following requirements:
a) That the location of any septic tanks be sited such that its openings are at or above an elevation of 229.57 metres above sea level to be certified by an Ontario Land Surveyor; and
b) Drainage of field beds are located at or above 227 metres above sea level.
3. That the subdivision agreement between the subdivider and the Municipality of Whitestone include a notice as follows:
"That any agreements of purchase and sale include a Notice to advise owners that the requirements of the Endangered Species Act are to be followed."
4. That the subdivision agreement prohibits any docks on McCormick's pond.
We are pleased that the development has been reduced from the proposed 11 lots to 8 lots and with the prohibition of docks on McCormick's Pond which will help in protecting this sensitive habitat.
However, one aspect of the approval continues to cause concern, as the Council and PSAPB approval will allow owners of these new lots to install septic leaching beds at a lower elevation than the current provision in Whitestone's Official Plan (section 12.05 "Hazard Lands") of 229.57 MASL, which is the 100 yr. flood level. Of further concern is that this new minimum standard of 227 MASL could be applied to future septic leaching bed installations on Lake WahWashKesh.
The Association has been consulting with the North Bay/Mattawa Conservation Association (NBMCA), which is the organization responsible for septic permitting on the Lake, to enhance their understanding of the Lake and its fluctuating water levels. As a result, they have a much better understanding of Lake WahWashKesh and our concerns related to septic placement and potential implications for the environment. We will continue to work with the organization to help clarify their policies and approach to septic permitting in the future, given the Council/PSAPB decision and the legislative requirements of the Ontario Building Code.
The Association would like to thank the members of the Planning and Development Committee for their tremendous effort to help protect the environment on Lake WahWashKesh. A lot of time and energy has gone into the research, analysis and commentary on the Sto-Keene proposal and there have been some positive results. The Association/Committee will continue to review and comment on development applications in the future in order to promote sustainable development on the Lake.
For further information on the agenda item and decision of the Parry Sound Area Planning Board, please follow the link http://psapb.ca/index.php/planning-board/minutes-agendas.
RE:  April 4th Council item – Parking Taskforce Recommendations
The following is a summary of the outcomes of Whitestone Council review and decisions on the above noted item at its April 4th, 2023 meeting:
A revised Traffic Control (Parking) by-law will be created that outlines expectations regarding parking at the public landings on Lake WahWashKesh (Bennett's Bay and The Narrows).
The By-Law once finalized will require Council approval.
There will be no parking or lake access fees charged at Lake WahWashKesh.
A majority of Council members voted against the introduction of fees to ensure that Lake WahWashKesh is treated the same as other lakes in the Whitestone area.
3. The Municipality of Whitestone will assume responsibility for maintenance of the public docks at the WahWashKesh landings as well as the maintenance and seasonal installation and removal of the safety boom at the Andy Vurma Memorial WahWashKesh dam on a go forward basis, including the related costs.
4. Several items were referred to Council's April 11th budget meeting for consideration for inclusion in the 2023 municipal budget, as follows:
Pylons and signage to increase efficiency of the main upper parking area (one-time capital cost estimated at $5,000)  Note:  We are hopeful that the costs of signage will be approved as enforcement will not be possible without signage.
An additional dock at Bennett's Bay (estimated cost of $15,000)
Expansion of the upper parking area (estimated one-time capital cost of $40,000)
Costs to discharge the municipality's obligations to the on-line permitting system vendor that will not be used.
2023 UPDATE REGARDING THE SALE OF PARKING / DOCK PERMITS AT INDIAN NARROWS & BENNET LANDING
The Lake WahWashKesh Conservation Association will no longer be selling parking or dock permits. 
Please do not submit any payments for parking or dock permits to the Lake WahWashKesh Conservation Association.
Bursary
• FOR POST-SECONDARY EDUCATION •
Lake Wah-Wash-Kesh Conservation Association Memorial Scholarship
In memory of Duncan Robertson and Mike Maceina
Open to any immediate family* of a current member of the Wah-Wash-Kesh Conservation Association.
The deadline for submission of applications is July 31st of the current year. Please submit the to the Association's President.
Definition of "immediate family member": spouse, child, stepchild, grandchild, parent, stepparent, grandparent, niece, nephew, mother-in-law, father-in-law, son-in-law, daughter-in-law, brother, sister, brother-in-law, sister-in-law, including adoptive relationships.
Newsletters
Get the latest Newsletter here.
EVENTS
(Check back often)
Any other ideas?- Please contact Lynn
MUNICIPAL NOTICES
New municipal news will be posted here. To view the archive of past notices click here.
GENERAL INFORMATION
WATER LEVELS

The general public is advised of water levels through the nbmca.ca website with the flood status icon and a link to information about current conditions. The conservation authority also circulates these messages to local media and social media, posting on Twitter (@theNBMCA), Instagram (nbmcainfo), and Facebook (theNBMCA).
Water Monitoring Station
The Lake Wahwashkesh monitoring station

provides real time streamed data on the lake's water level and temperature. The monitor has been providing data to the MNR since 2008.
Who We Are:
The Lake Wah-Wash-Kesh Conservation Association is a not-for-profit association of cottagers and residents on or near Lake Wahwashkesh, Ontario, Canada who…
… promote the conservation of the natural resources of Lake Wahwashkesh in the Township of McKenzie, in the District of Parry Sound and to protect and improve the natural environment of the Lake for the benefit of all users
and
… protect and promote the property interests of landowners on Lake Wahwashkesh or located nearby.